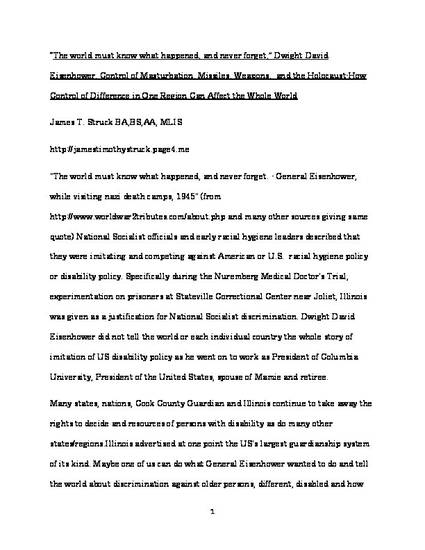 Article
"The world must know what happened, and never forget," Dwight David Eisenhower, Control of Masturbation, Missiles, Weapons, and the Holocaust-How Control of Difference in One Region Can Affect the Whole World
submitted (2011)
Abstract
The world must know what happened here and never forget was Eisenhower's gift to us on seeing the Nazi death camps. Such a policy of telling the world about something can be wonderful to let us understand the world better and horrible in bringing more parties into an action without need. Still, National Socialists stated that they imitated US disability and prison experimentation in Illinois. Telling the whole world about the Holocaust includes telling the whole world about US disability discrimination. Control of masturbation led to sterilization policies throughout the US and expanded into control of difference within National Socialist Germany as well. Small control actions in one state can be associated with genocide in another state. Complete control over persons under guardianships continues and should stop as slavery and morality concepts are being violated. Sterilizations to control masturbation were a type of control over persons which had disastrous effects. Eisenhower was in Kansas at the beginning of these sterilizations in 1894 and there at the end of the European Holocaust with his world must know comment.
Keywords
Genocide,
Holocaust,
Masturbation,
Eisenhower,
Imitation,
World Must know
Citation Information
James T Struck. ""The world must know what happened, and never forget," Dwight David Eisenhower, Control of Masturbation, Missiles, Weapons, and the Holocaust-How Control of Difference in One Region Can Affect the Whole World"
submitted
(2011)
Available at: http://works.bepress.com/james_struck/16/