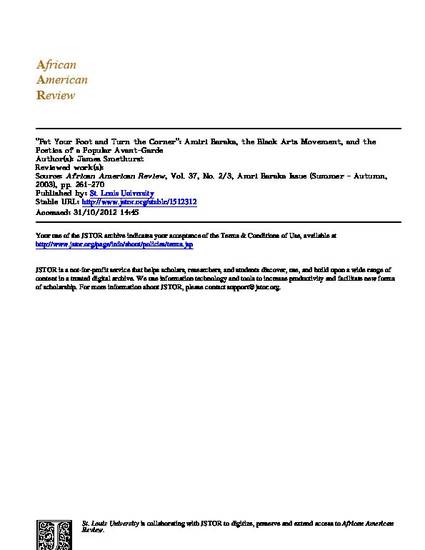 Article
'Pat your foot and turn the corner': Amiri Baraka, the Black Arts Movement, and the poetics of a popular avant-garde
African American Review (2003)
Abstract
My larger objective here is to engage the current cultural conversation about the nature of the Black Arts Movement and its impact on politics and culture in the United States and beyond. So while I honor the significance of Amiri Baraka's work as artist, critic, and activist, my intention is to place that work within a movement in which Baraka is but one voice among many, albeit an important one. In other words, in the spirit of Baraka'so wn criticala nd autobiographicalw ritings, I want to emphasize, to the degree that it is possible in a short essay, the collectivity and diversity of the Black Arts Movement, and try to avoid the sort of great-man theory in which Baraka's work becomes a metonymy for all Black Arts literature, drama, criticism, and so on.1 I also want to say that this is a small part of a larger work-in-progress designed to further conversation rather than shut it off with some gesture toward authority.
Publication Date
Fall 2003
Citation Information
James E. Smethurst. "'Pat your foot and turn the corner': Amiri Baraka, the Black Arts Movement, and the poetics of a popular avant-garde"
African American Review
Vol. 37 Iss. 2-3 (2003)
Available at: http://works.bepress.com/james_smethurst/8/