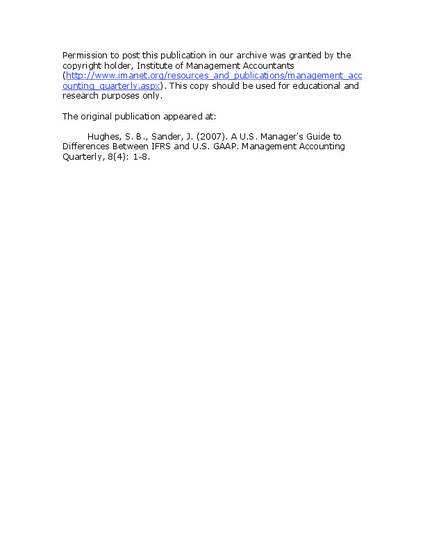 Article
A U.S. Manager's Guide to Differences Between IFRS and U.S. GAAP
Management Accounting Quarterly
Publication Date
1-1-2007
Additional Publication URL
http://www.imanet.org/resources_and_publications/management_accounting_quarterly.aspx
Abstract
International Financial Reporting Standards (IFRS) are now required for consolidated financial reports for all European Union exchange-listed companies. Officials estimated that for 2005, the initial year of EU adoption, 8,000 financial statements were prepared in accordance with IFRS for the first time. Other countries have also adopted IFRS or IFRS-equivalent financial reporting standards. IFRS differ from U.S. Generally Accepted Accounting Principles (GAAP) in many key areas. The International Accounting Standards Board (IASB) and the Financial Accounting Standards Board (FASB) are working on various convergence projects designed to reduce or eliminate differences between the two sets of reporting standards. But existing differences will likely continue for at least the next two years, and, for many accounting topics, differences are likely to last much longer. This article highlights the 20 convergence projects and summarizes the differences between the two sets of standards. In addition, differences in three topics that are not included in the convergence efforts are identified. Differences between IFRS and U.S. GAAP found in actual EU company Form 20-F filings are used to illustrate the impact of the reporting-standard differences.
Rights
Permission to post this publication in our archive was granted by the copyright holder,
Institute of Management Accountants
. This copy should be used for educational and research purposes only. The original publication appeared at: Hughes, S. B., Sander, J. (2007). A U.S. Manager's Guide to Differences Between IFRS and U.S. GAAP. Management Accounting Quarterly, 8(4): 1-8.
Citation Information
James F. Sander and Susan B. Hughes. "A U.S. Manager's Guide to Differences Between IFRS and U.S. GAAP"
Management Accounting Quarterly
Vol. 8 Iss. 4 (2007) p. 1 - 8
Available at: http://works.bepress.com/james_sander/7/