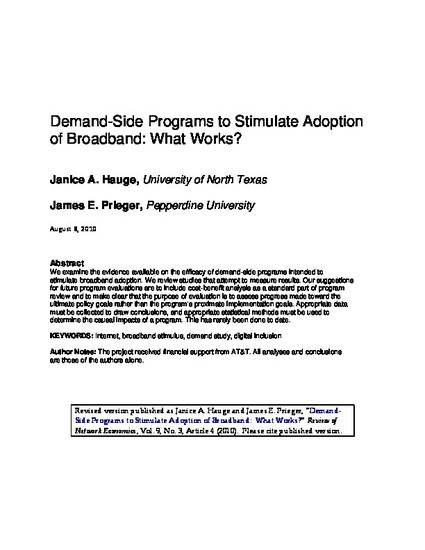 Article
Demand-Side Programs to Stimulate Adoption of Broadband: What Works?
School of Public Policy Working Papers
Publication Date
8-8-2010
Abstract
We examine the evidence available on the efficacy of demand-side programs intended to stimulate broadband adoption. We review studies that attempt to measure results. Our suggestions for future program evaluations are to include cost-benefit analysis as a standard part of program review and to make clear that the purpose of evaluation is to assess progress made toward the ultimate policy goals rather than the program's proximate implementation goals. Appropriate data must be collected to draw conclusions, and appropriate statistical methods must be used to determine the causal impacts of a program. This has rarely been done to date.
Citation Information
James Prieger and Janice A. Hauge. "Demand-Side Programs to Stimulate Adoption of Broadband: What Works?" (2010)
Available at: http://works.bepress.com/james_prieger/27/