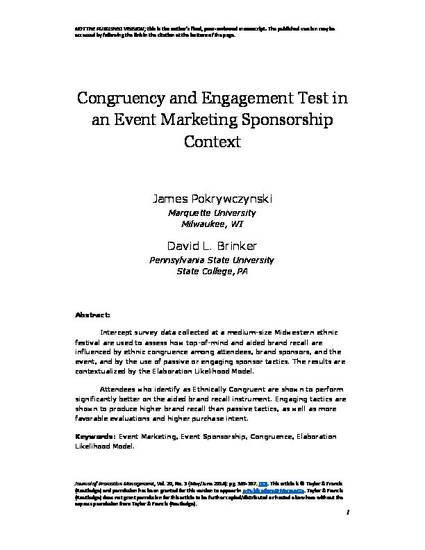 Article
Congruency and Engagement Test in an Event Marketing Sponsorship Context
Journal of Promotion Management
Publication Date
6-1-2014
Publisher
Taylor & Francis
Original Item ID
doi: 10.1080/10496491.2014.908799
Abstract
Intercept survey data collected at a medium-size Midwestern ethnic festival are used to assess how top-of-mind and aided brand recall are influenced by ethnic congruence among attendees, brand sponsors, and the event, and by the use of passive or engaging sponsor tactics. The results are contextualized by the Elaboration Likelihood Model. Attendees who identify as ethnically congruent are shown to perform significantly better on the aided brand recall instrument. Engaging tactics are shown to produce higher brand recall than passive tactics, as well as more favorable evaluations and higher purchase intent.
Citation Information
James Pokrywczynski and David L. Brinker. "Congruency and Engagement Test in an Event Marketing Sponsorship Context"
Journal of Promotion Management
(2014) ISSN: 1049-6491
Available at: http://works.bepress.com/james_pokrywczynski/47/