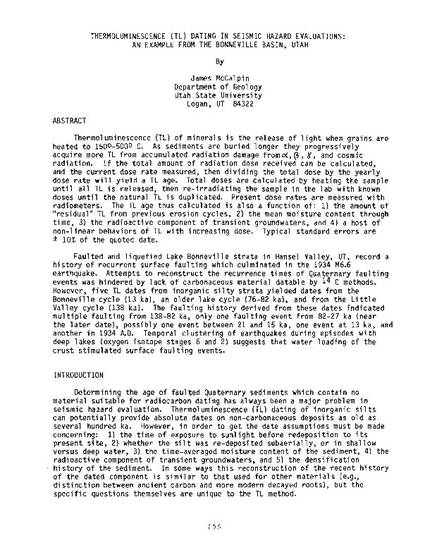 Article
THERMOLUMINESCENCE (TL) DATING IN SEISMIC HAZARD EVALUATIONS: AN EXAMPLE FROM THE BONNEVILLE BASIN, UTAH
Proceedings of the Symposium on Engineering Geology and Soils Engineering (1986)
Abstract
Thermoluminescence (TL) of minerals is the release of light when grains are heated to 1500 -5000 C. As sediments are buried longer they progressively acquire more TL from accumulated radiation damage from alpha, beta, and gamma rays and cosmic radiation. If the total amount of radiation dose received can be calculated, and the current dose rate measured, then dividing the total dose by the yearly dose rate will yield a TL age. Total doses are calculated by heating the sample until all TL is released, then re-irradiating the sample in the lab with known doses until the natural TL is duplicated. Present dose rates are measured with radiometers. The TL age thus calculated is also a function of: 1) the amount of residual TL from previous erosion cycles, 2) the mean moisture content through time, 3) the radioactive component of transient groundwaters, and 4) a host of non-linear behaviors of TL with increasing dose. Typical standard errors are ± 10% of the quoted date. Faulted and liquefied Lake Bonneville strata in Hansel Valley, VT, record a history of recurrent surface faulting which culminated in the 1934 M6.6 earthquake. Attempts to reconstruct the recurrence times of Quaternary faulting events was hindered by lack of carbonaceous material datable by 14 C methods. However, five TL dates from inorganic silty strata yielded dates from the Bonneville cycle (13 ka), an older lake cycle (76-82 ka), and from the Little Valley cycle (138 kale The faulting history derived from these dates indicated multiple faulting from 138-82 ka, only one faulting event from 82-27 ka (near the later date), possibly one event between 21 and 15 ka, one event at 13 ka, and another in 1934 A.D. Temporal clustering of earthquakes during episodes with deep lakes (oxygen isotope stages 6 and 2) suggests that water loading of the crust stimulated surface faulting events.
Keywords
geochronology,
thermoluminescence,
Quaternary geology,
Lake Bonneveille,
active fault
Citation Information
James P. McCalpin. "THERMOLUMINESCENCE (TL) DATING IN SEISMIC HAZARD EVALUATIONS: AN EXAMPLE FROM THE BONNEVILLE BASIN, UTAH"
Proceedings of the Symposium on Engineering Geology and Soils Engineering
Vol. aa (1986)
Available at: http://works.bepress.com/james_mccalpin/4/