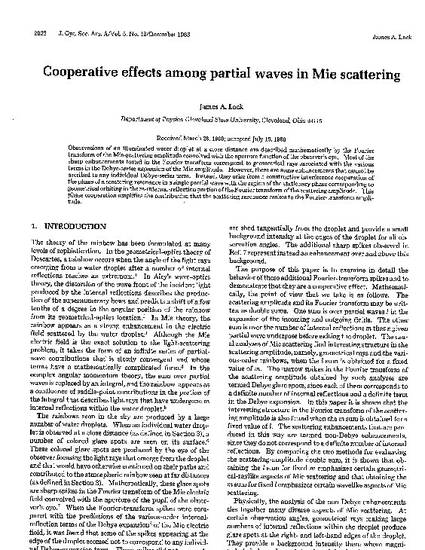 Article
Cooperative Effects Among Partial Waves in Mie Scattering
Journal of the Optical Society of America A: Optics Image Science and Vision
Publication Date
12-1-1988
Abstract
Observations of an illuminated water droplet at a close distance are described mathematically by the Fourier transform of the Mie-scattering amplitude convolved with the aperture function of the observer's eye. Most of the sharp enhancements found in the Fourier transform correspond to geometrical rays associated with the various terms in the Debye-series expansion of the Mie amplitude. However, there are some enhancements that cannot be ascribed to any individual Debye-series term. Instead, they arise from a constructive interference cooperation of the phase of a scattering resonance in a single partial wave with the region of the stationary phase corresponding to geometrical orbiting in the m-internal-reflection portion of the Fourier transform of the scattering amplitude. This phase cooperation amplifies the contribution that the scattering resonance makes to the Fourier-transform amplitude.
DOI
10.1364/JOSAA.5.002032
Publisher's Statement
This paper was published in Journal of the Optical Society of America A: Optics Image Science and Vision and is made available as an electronic reprint with the permission of OSA. The paper can be found at the following URL on the OSA website:
http://www.opticsinfobase.org/josaa/abstract.cfm?URI=josaa-5-12-2032
. Systematic or multiple reproduction or distribution to multiple locations via electronic or other means is prohibited and is subject to penalties under law.
Citation Information
Lock, James A. "Cooperative Effects Among Partial Waves in Mie Scattering."
Journal of the Optical Society of America A: Optics Image Science and Vision
5 (1988): 2032-2044.