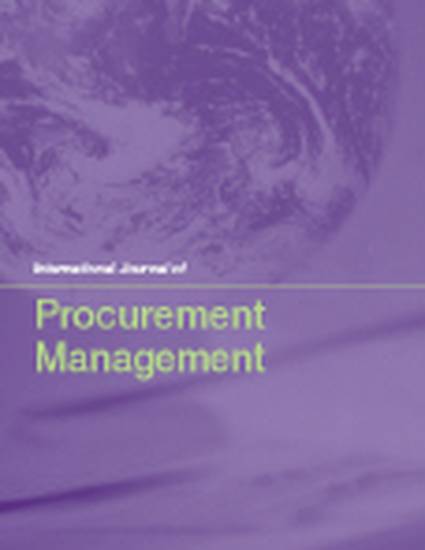 Article
A Framework and Scale Development for Assessing Supply Chain Outsourcing Alignment with Competitive Priorities
International Journal of Procurement Management (2009)
Abstract
Over the past decade, outsourcing has become an integral part of a firm's manufacturing strategy (Chamberland, 2003; Gottfredson et al., 2005). The increased level of outsourcing activities in the manufacturing sector has elevated the outsourcing function to take on a higher strategic importance (Holcomb and Hitt, 2007; Kakabadse and Kakabadse, 2000b; Talluri and Narasimhan, 2004). This paper presents a new framework for assessing a firm's manufacturing strategy by measuring the emphasis given by the firm to its competitive priorities (cost, flexibility, innovativeness, quality and time), against the emphasis given to the drivers of its outsourcing decisions. This framework is used to evaluate a firm's level of outsourcing alignment, defined as the degree of fit between the firm's competitive priorities and the drivers of its outsourcing decisions. We first present the conceptual framework and then the scales developed from the empirical data collected from a sample of manufacturing firms in the USA.
Keywords
supply chain outsourcing,
supply chain management,
SCM,
alignment,
competitive priorities,
outsourcing drivers,
manufacturing strategy,
USA,
United States
Citation Information
James Kroes and Soumen Ghosh. "A Framework and Scale Development for Assessing Supply Chain Outsourcing Alignment with Competitive Priorities"
International Journal of Procurement Management
Vol. 2 Iss. 1 (2009)
Available at: http://works.bepress.com/james_kroes/3/