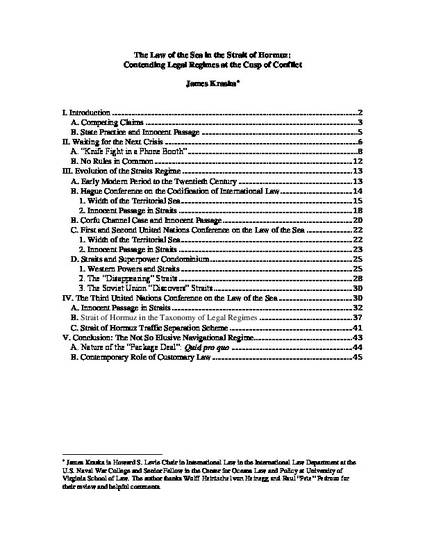 Unpublished Paper
The Law of the Sea in the Strait of Hormuz: Contending Legal Regimes at the Cusp of Conflict
ExpressO (2013)
Abstract
This article resolves long-standing confusion over the legal regime that applies to passage through the Strait of Hormuz. Iran and the United States profoundly disagree about the applicable international law in the Strait of Hormuz, a narrow stretch of water through which travels 17 million barrels of oil per day—20 percent of the world total. The strait connects the Arabian Sea to the Persian Gulf, and is ground zero in the clash between the two states. Each year 12,000 vessels, half of them oil tankers greater than 150,000 gross tons, converge in dense traffic patterns in Iranian territorial seas en route through the Strait. A bitter legal dispute over the right of passage, especially by foreign warships, military aircraft, and submarines, has simmered for decades, and it is a volatile element of the broader confrontation to stop Tehran's nuclear program. In times of crisis at home or abroad, Iran has tightened its hold on the strait, inciting pushback from the United States. While Iranian action under nuclear nonproliferation regimes has captured widespread attention, there is virtually no contemporary analysis of the far-reaching disagreements between Iran and the United States on the international law of the sea, and in particular, the appropriate legal regime in the Strait of Hormuz.
Keywords
international law,
law of the sea
Publication Date
March 8, 2013
Citation Information
James Kraska. "The Law of the Sea in the Strait of Hormuz: Contending Legal Regimes at the Cusp of Conflict"
ExpressO
(2013)
Available at: http://works.bepress.com/james_kraska/1/