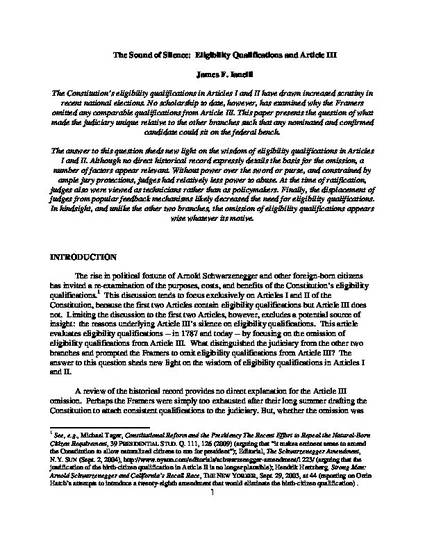 Article
The Sound of Silence: Eligibility Qualifications and Article III
Seton Hall Circuit Review (2009)
Abstract
The Constitution's eligibility qualifications in Articles I and II have drawn increased scrutiny in recent national elections. No scholarship to date, however, has examined why the Framers omitted any comparable qualifications from Article III. This paper presents the question of what made the judiciary unique relative to the other branches such that any nominated and confirmed candidate could sit on the federal bench.
The answer to this question sheds new light on the wisdom of eligibility qualifications in Articles I and II. Although no direct historical record details the basis for the omission, a number of factors appear relevant. Without power over the sword or purse, and constrained by ample jury protections, judges had relatively less power to abuse. At the time of ratification, judges also were viewed as technicians rather than policymakers. Finally, the displacement of judges from popular feedback mechanisms likely decreased the need for eligibility qualifications. In hindsight, and unlike the other two branches, the omission of eligibility qualifications appears wise whatever its motive.
Keywords
Article III,
eligibility qualifications,
juries,
modern judiciary
Publication Date
Fall December 15, 2009
Citation Information
James F Ianelli. "The Sound of Silence: Eligibility Qualifications and Article III"
Seton Hall Circuit Review
Vol. 6 (2009)
Available at: http://works.bepress.com/james_ianelli/1/