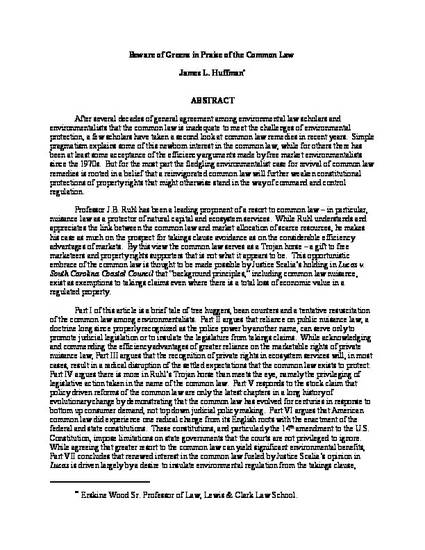 Unpublished Paper
Beware of Greens in Praise of the Common Law
(2007)
Abstract
Beware of Greens in Praise of the Common Law
James L. Huffman
ABSTRACT
After several decades of general agreement among environmental law scholars and environmentalists that the common law is inadequate to meet the challenges of environmental protection, a few scholars have taken a second look at common law remedies in recent years. Simple pragmatism explains some of this newborn interest in the common law, while for others there has been at least some acceptance of the efficiency arguments made by free market environmentalists since the 1970s. But for the most part the fledgling environmentalist case for revival of common law remedies is rooted in a belief that a reinvigorated common law will further weaken constitutional protections of property rights that might otherwise stand in the way of command and control regulation.
Professor J.B. Ruhl has been a leading proponent of a resort to common law – in particular, nuisance law as a protector of natural capital and ecosystem services. While Ruhl understands and appreciates the link between the common law and market allocation of scarce resources, he makes his case as much on the prospect for takings clause avoidance as on the considerable efficiency advantages of markets. By this view the common law serves as a Trojan horse – a gift to free marketeers and property rights supporters that is not what it appears to be. This opportunistic embrace of the common law is thought to be made possible by Justice Scalia's holding in Lucas v. South Carolina Coastal Council that "background principles," including common law nuisance, exist as exemptions to takings claims even where there is a total loss of economic value in a regulated property.
Part I of this article is a brief tale of tree huggers, bean counters and a tentative resuscitation of the common law among environmentalists. Part II argues that reliance on public nuisance law, a doctrine long since properly recognized as the police power by another name, can serve only to promote judicial legislation or to insulate the legislature from takings claims. While acknowledging and commending the efficiency advantages of greater reliance on the marketable rights of private nuisance law, Part III argues that the recognition of private rights in ecosystem services will, in most cases, result in a radical disruption of the settled expectations that the common law exists to protect. Part IV argues there is more in Ruhl's Trojan horse than meets the eye, namely the privileging of legislative action taken in the name of the common law. Part V responds to the stock claim that policy driven reforms of the common law are only the latest chapters in a long history of evolutionary change by demonstrating that the common law has evolved for centuries in response to bottom up consumer demand, not top down judicial policy making. Part VI argues that American common law did experience one radical change from its English roots with the enactment of the federal and state constitutions. These constitutions, and particularly the 14th amendment to the U.S. Constitution, impose limitations on state governments that the courts are not privileged to ignore. While agreeing that greater resort to the common law can yield significant environmental benefits, Part VII concludes that renewed interest in the common law fueled by Justice Scalia's opinion in Lucas is driven largely by a desire to insulate environmental regulation from the takings clause, while evidencing very little appreciation for the common law as an institution for the allocation of scarce resources.
Publication Date
May, 2007
Citation Information
James L. Huffman. "Beware of Greens in Praise of the Common Law" (2007)
Available at: http://works.bepress.com/james_huffman/2/