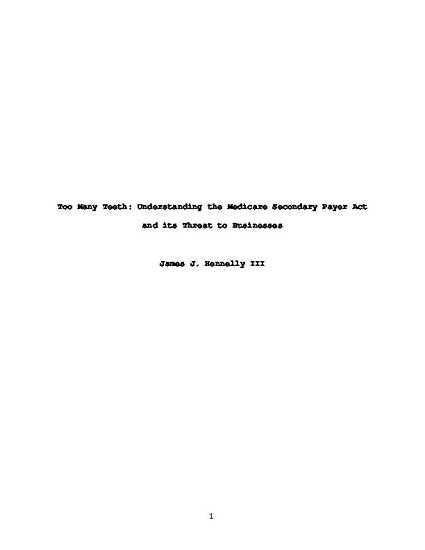 Unpublished Paper
Too Many Teeth: Understanding the Medicare Secondary Payer Act and its Threat to Businesses
ExpressO (2012)
Abstract
The Medicare Secondary Payer Act ("MSP"), first enacted in 1980, has undergone several changes over the past three decades in an effort by the government to recoup some of its losses from conditional payments it makes on behalf of Medicare beneficiaries. In light of Congress's many cost-cutting exploits of late, more attention should be drawn towards recent amendments to the MSP in an effort to find a healthy balance between the government's interest in recouping its losses and private businesses' interest in staying in business. Congress reacted to increasing Medicare costs in 2003 by inserting in the Medicare Modernization Act of 2003 a new definition of "self-insured plan" under the MSP. The amendment effectively brought into the MSP's grasp tortfeasors who provide their own liability insurance and pay injured claimants through a settlement or judgment. While this change might seem minor, the ramifications for businesses have been dramatic. Products liability cases, especially, can force companies out of business where a company committed a tort and settles with hundreds or thousands of claimants. This comment explores these ramifications and recommends how Congress should further amend the MSP to find an appropriate balance between government and business interests.
Publication Date
March 25, 2012
Citation Information
James J. Hennelly. "Too Many Teeth: Understanding the Medicare Secondary Payer Act and its Threat to Businesses"
ExpressO
(2012)
Available at: http://works.bepress.com/james_hennelly/1/