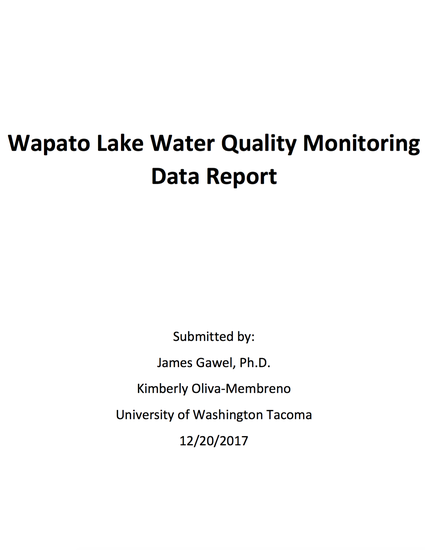 Article
Wapato Lake Water Quality Monitoring Data Report
University of Washington, Tacoma
Publication Date
12-20-2017
Abstract
In early 2017, University of Washington Tacoma (UWT) was contracted to provide monitoring before, during and after an alum treatment being conducted on May 9, 2017, in Wapato Lake, Tacoma, WA. Specifically, researcher Jim Gawel, Associate Professor of Environmental Chemistry and Engineering, and undergraduate student Kimberly Oliva-Membreno were contracted to carry out the following tasks: Task 1. Short-Term Impact Monitoring occurs 1 day before treatment, 2 days after treatment, and 2 weeks after treatment. Monitoring at one station includes water quality profiles for field parameters, Secchi depth, and collecting samples from near the surface and bottom for lab analysis of alkalinity, SRP, TP, chlorophyll, dissolved and total aluminum. - (if needed) Lake surface water alkalinity field testing at 2 depths Task 2. Twice Daily Monitoring occurs in the morning and evening of each treatment day and includes only water quality profiles and alkalinity field test. Task 3. Random Monitoring every hour on each treatment day (between twice daily) and includes a pH profile at the site treated one hour previously, and alkalinity from surface and bottom if pH < 6. Task 4. Produce data summary report to Herrera by December 31, 2017.
Publisher Policy
no SHERPA/RoMEO policy available
Citation Information
James E. Gawel and Kimberly Oliva-Membreno. "Wapato Lake Water Quality Monitoring Data Report"
University of Washington, Tacoma
(2017) p. 1 - 4
Available at: http://works.bepress.com/james_gawel/17/