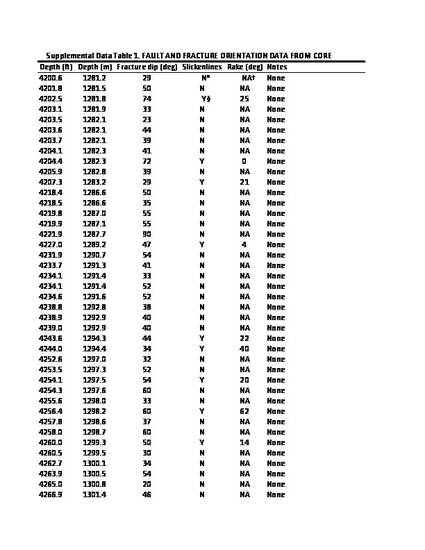 Dataset
DATA for: GEOLOGY AND IN SITU STRESS OF THE MH-2 BOREHOLE, IDAHO, U.S.A.: INSIGHTS INTO WESTERN SNAKE RIVER PLAIN STRUCTURE FROM GEOTHERMAL EXPLORATION DRILLING
(2017)
Description
These two files contain the raw data sets for the logging of core from the MH-2 Borehole. The core was acquired in October-December 2012, and the data sets are discussed in a paper submitted to the journal Lithosphere. The paper is:
Geology and in situ Stress of the MH-2 Borehole, Idaho, U.S.A.: Insights into western Snake River Plain structure from geothermal exploration  drilling
by:
J. A. Kessler1,2,K. K. Bradbury1, J. P. Evans1, M. A. Pulsipher1,D. R. Schmitt3, J. W. Shervais1, F. E. Rowe1, J. Varriale1,4
   1 Dept. of Geology, Utah State University, 4505 Old Main Hill, Logan, Utah 84322 USA
 2 now at: Occidental Petroleum Corporation, 5 Greenway Plaza, Houston, Texas
77046
   3 Dept. of Physics, University of Alberta, 4-181 CCIS, Edmonton, AB T6G 2E1 Canada
   4 now at: Anadarko Petroleum Company, 1201 Lake Robbins Drive, The Woodlands, Texas
77380
Keywords
in situ stress; MH2 borehole,
Project Hotspot,
Basin and Range stresses
Publication Date
Spring 2017
Citation Information
James P. Evans. "DATA for: GEOLOGY AND IN SITU STRESS OF THE MH-2 BOREHOLE, IDAHO, U.S.A.: INSIGHTS INTO WESTERN SNAKE RIVER PLAIN STRUCTURE FROM GEOTHERMAL EXPLORATION DRILLING" (2017)
Available at: http://works.bepress.com/james_evans/89/
Creative Commons license
This work is licensed under a Creative Commons CC_BY-NC International License.