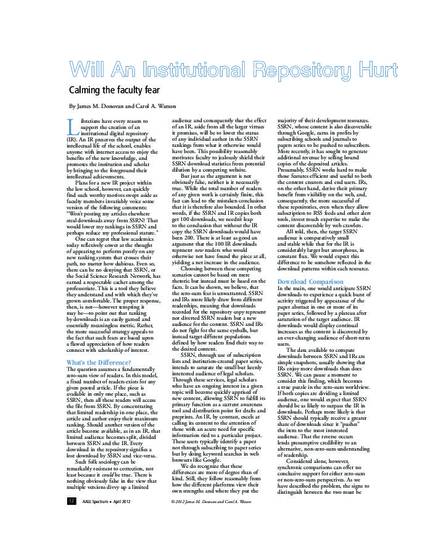 Article
Will an Institutional Repository Hurt My SSRN Ranking?: Calming the Faculty Fear
AALL Spectrum (2012)
Abstract
Librarians have every reason to support the creation of an institutional digital repository (IR). An IR preserves the output of the intellectual life of the school, enables anyone with internet access to enjoy the benefits of the new knowledge, and promotes the institution and scholar by bringing to the foreground their intellectual achievements.
Plans for a new IR project within the law school, however, can quickly find such worthy motives swept aside as faculty members invariably voice some version of the following comments: "Won't posting my articles elsewhere steal downloads away from SSRN? That would lower my rankings in SSRN and perhaps reduce my professional stature."
One can regret that law academics today reflexively cower at the thought of appearing to perform poorly on any new ranking system that crosses their path, no matter how dubious. Even so, there can be no denying that SSRN, or the Social Science Research Network, has earned a respectable cachet among the professoriate. This is a tool they believe they understand and with which they've grown comfortable. The proper response, then, is not—however tempting it may be—to point out that ranking by downloads is an easily gamed and essentially meaningless metric. Rather, the more successful strategy appeals to the fact that such fears are based upon a flawed appreciation of how readers connect with scholarship of interest.
Publication Date
April, 2012
Citation Information
James M. Donovan and Carol A. Watson. "Will an Institutional Repository Hurt My SSRN Ranking?: Calming the Faculty Fear"
AALL Spectrum
Vol. 16 Iss. 6 (2012)
Available at: http://works.bepress.com/james_donovan/70/