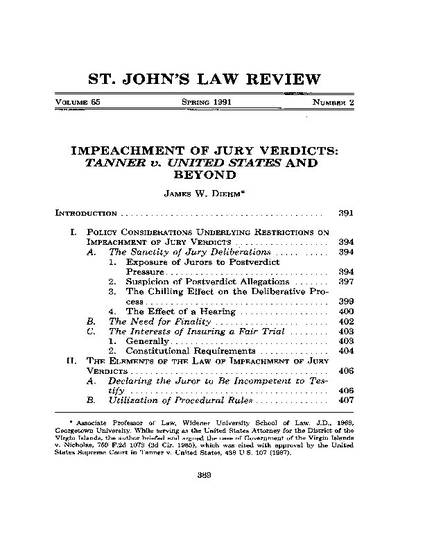 Article
Impeachment of Jury Verdicts: Tanner and Beyond
St. John's Law Review (1991)
Abstract
Why, after more than two centuries of study and consideration by the courts and legal scholars alike, does the debate over the impeachment of jury verdicts persist? The problem is not one susceptible to an easy solution. If we lived in a perfect world, fair and impartial juries would be selected; they would listen to the evidence, retire to the jury room, discuss the evidence rationally in a cordial manner, follow the court's instructions, reach a just and logical verdict, accurately report that verdict and be excused. Unfortunately, a myriad of problems can develop during this process, for example, a juror's untruthful response to a voir dire question may result in his improper placement on the jury. Jurors may base a verdict on rumors, newspaper accounts, or comments by court personnel. Inadmissible evidence or bias against a party may influence a jury verdict. Litigants, third parties, or even other jurors may threaten or pressure jury members to reach a certain verdict. The jury may misunderstand he court's instructions or the ramifications of its verdict. Furthermore, a jury verdict may be founded on a compromise, quotient, or even a coin toss.
Keywords
jurys,
jurors,
criminal law,
impeachment,
verdicts
Publication Date
Spring 1991
Citation Information
James W. Diehm. "Impeachment of Jury Verdicts: Tanner and Beyond"
St. John's Law Review
Vol. 65 Iss. 2 (1991) p. 389
Available at: http://works.bepress.com/james_diehm/2/