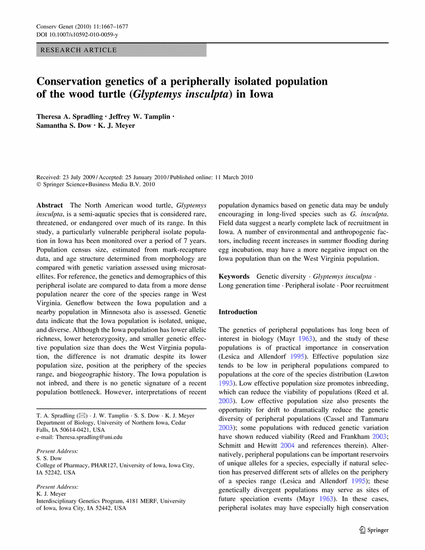 Article
Evolutionary Relationships of Pocket Gophers of the Genus Pappogeomys (Rodentia: Geomyidae)
Journal of Mammalogy (2009)
Abstract
Once encompassing as many as 9 species of pocket gophers spread across most of the Mexican Altiplano, the genus 
Pappogeomys
 is now restricted to a single species, 
P. bulleri
, occupying the mountains, tablelands, and coastal plains near the western end of the Trans-Mexican Volcanic Belt in west-central Mexico. Herein, we review the taxonomic history of 
Pappogeomys
 and examine relationships among populations of 
P. bulleri
 from throughout the geographic range of the species based on analyses of nonpreferentially stained karyotypes and mitochondrial and nuclear sequence data. Results of these analyses are concordant and reveal 3 major clades of 
P. bulleri
 that are separated by major physiographic features of the region, including the Sierra Madre del Sur and drainages of the Río Grande de Santiago, Río Ameca, Río Ayuquila, and Río Armería. We reduce the number of subspecies of 
P. bulleri
 from 9 to 5 valid forms and provide a revised synonymy of the species.
Keywords
chromosomes,
mitochondrial DNA,
nuclear DNA,
Pappogeomys,
pocket gophers,
systematics
DOI
http://dx.doi.org/10.1644/08-MAMM-A-168.1
Citation Information
Mark S. Hafner, David J. Hafner, James W. Demastes, Gerald L. Hasty, et al.. "Evolutionary Relationships of Pocket Gophers of the Genus Pappogeomys (Rodentia: Geomyidae)"
Journal of Mammalogy
Vol. 90 Iss. 1 (2009) p. 47 - 56
Available at: http://works.bepress.com/james_demastes/9/