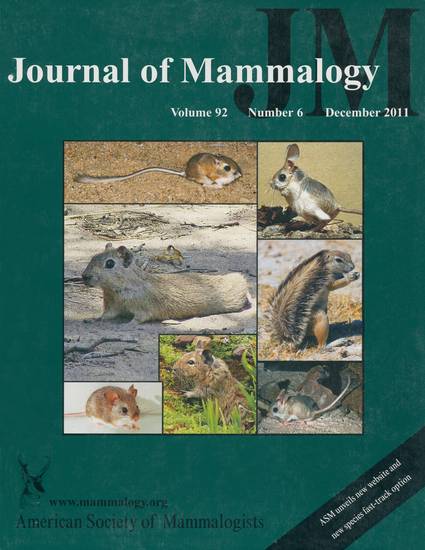 Article
Redescription of the Pocket Gopher Thomomys Atrovarius from the Pacific Coast of Mainland Mexico
Journal of Mammalogy (2011)
Abstract
Thomomys atrovarius
 is redescribed to include the smooth-toothed pocket gophers that inhabit dry, thornscrub vegetation along the Pacific versant of the Sierra Madre Occidental of Mexico from northern Sinaloa into western Durango, northwestern Jalisco, and western Nayarit. Molecular analyses of mitochondrial and nuclear DNA sequences (including historical samples from museum skins) show high levels of genetic differentiation between 
T. atrovarius
 and 
T. umbrinus
 of the Sierra Madre Occidental (15.4% cytochrome-
b
 divergence) and Mexican Central Plateau (16.9% divergence). Roughly coincident morphometric and genetic gaps divide 
T. atrovarius
 into 2 subspecies, 
T. a. parviceps
 in the north and 
T. a. atrovarius
 in the south, with probable intergradation in between. Most specimens of 
T. atrovarius
, especially those of the southern subspecies, are distinguished easily from specimens of 
T. bottae
 and 
T. umbrinus
 on the basis of fur texture, and an analysis of cranial morphometrics shows little overlap between 
T. atrovarius
 and other 
Thomomys
 clades in Mexico. An analysis of niche parameters shows significantly different climate envelopes for 
T. atrovarius
 compared with other species of 
Thomomys
, and a biogeographical review suggests that 
T. atrovarius
 has ancestral affinities to the south of its current distribution. A synonymy of 
T. atrovarius
 and a key to the currently recognized species of 
Thomomys
 in mainland Mexico are provided.
Keywords
biogeography,
cytochrome b,
genetic differentiation,
Geomyidae,
phylogenetics,
Rodentia
Citation Information
Mark S. Hafner, Amber R. Gates, Verity L. Mathis, James W. Demastes, et al.. "Redescription of the Pocket Gopher Thomomys Atrovarius from the Pacific Coast of Mainland Mexico"
Journal of Mammalogy
Vol. 92 Iss. 6 (2011) p. 1367 - 1382
Available at: http://works.bepress.com/james_demastes/8/