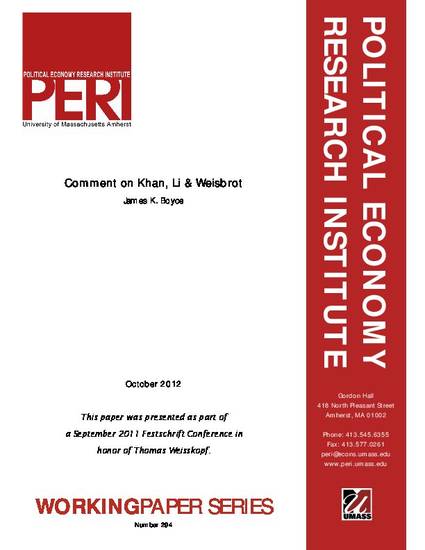 Article
Comment on Khan, Li and Weisbrot (Thomas Weisskopf Festschrift Conference Paper)
PERI Working Papers (2012)
Abstract
Boyce comments on Shahrukh Khan's " The Military and Economic Development in Pakistan, Minqi Li's "Socialism: The 20th Century and the 21st Century" and Mark Weisbrot's "Economic Growth: The Great Slowdown (1980-2000) and Recovery (2000-2010)." He adds his own thoughts on the theme running through these papers: the need to take the role of the state, both in terms of state control over the means of production and resource allocation, but also about the core issue of control over the state itself. This means engaging, as Khan, Li and Weisbrot do, with the historic struggle to build and sustain real democracy.
Publication Date
October 17, 2012
Citation Information
James K Boyce. "Comment on Khan, Li and Weisbrot (Thomas Weisskopf Festschrift Conference Paper)"
PERI Working Papers
(2012)
Available at: http://works.bepress.com/james_boyce/40/