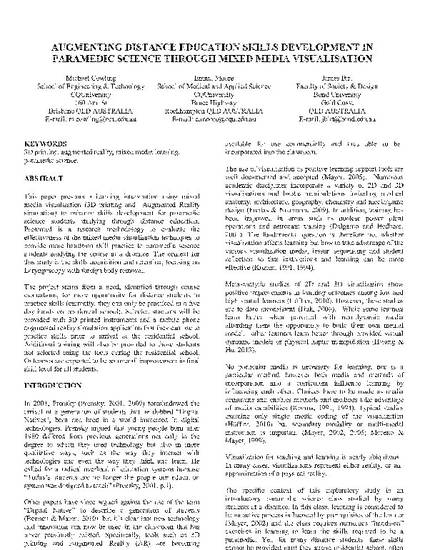 Presentation
Augmenting distance education skills development in paramedic science through mixed media visualisation
21st European Concurrent Engineering Conference, 11th Future Business Technology Conference, 19th Annual Euromedia Conference
Date of this Version
4-27-2015
Document Type
Conference Paper
Abstract
Extract: This paper presents a learning intervention using mixed media visualisation (3D printing and Augmented Reality simulation) to enhance skills development for paramedic science students studying through distance education. Presented is a research methodology to evaluate the effectiveness of the mixed media visualisation techniques to provide more hands-on skill practice to paramedic science students studying the course at a distance. The context for this study is the skills acquisition and retention, focusing on Laryngoscopy with foreign body removal.
Citation Information
Michael Cowling, Emma Moore and James Birt. "Augmenting distance education skills development in paramedic science through mixed media visualisation"
21st European Concurrent Engineering Conference, 11th Future Business Technology Conference, 19th Annual Euromedia Conference
(2015) p. 113 - 117
Available at: http://works.bepress.com/james_birt/21/