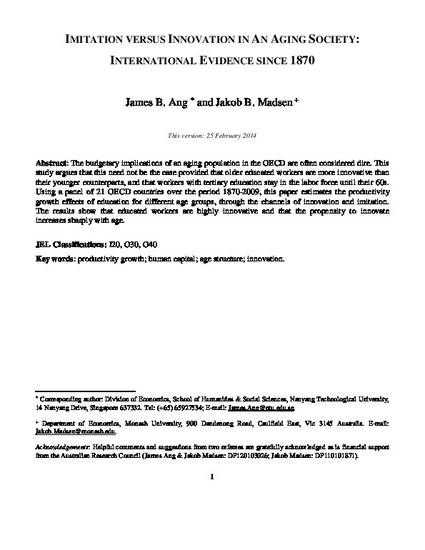 Article
Imitation versus innovation in an aging society: International evidence since 1870
JOURNAL OF POPULATION ECONOMICS (2015)
Abstract
The budgetary implications of an aging population in the OECD are often considered dire. This study argues that this need not be the case provided that older educated workers are more innovative than their younger counterparts and that the workers with tertiary education stay in the labor force until their 60s. In using a panel of 21 OECD countries over the period 1870–2009, this paper estimates the productivity growth effects of education for different age groups, through the channels of innovation and imitation. The results show that educated workers are highly innovative and that the propensity to innovate increases sharply with age.
Publication Date
April 1, 2015
Citation Information
James B Ang. "Imitation versus innovation in an aging society: International evidence since 1870"
JOURNAL OF POPULATION ECONOMICS
(2015)
Available at: http://works.bepress.com/james_ang/44/