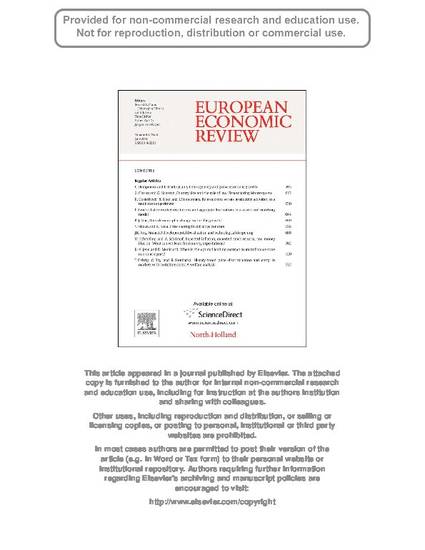 Article
Financial development, liberalization and technological deepening
EUROPEAN ECONOMIC REVIEW (2011)
Abstract
This paper focuses on examining the effects of financial development and liberalization on knowledge accumulation. The results consistently show that while financial development facilitates the accumulation of new ideas, the implementation of financial reform policies is negatively associated with it. The undesirable effects of financial liberalization are found to operate through the triggering of crises and volatility in the financial system. There is also evidence supporting the hypothesis that financial liberalization reallocates talent from the innovative sector to the financial system, thus retarding technological deepening. Moreover, the findings also suggest that increased R&D activity and the presence of a stronger intellectual property rights protection framework tend to have beneficial effects on knowledge accumulation.
Citation Information
James B Ang. "Financial development, liberalization and technological deepening"
EUROPEAN ECONOMIC REVIEW
(2011)
Available at: http://works.bepress.com/james_ang/27/