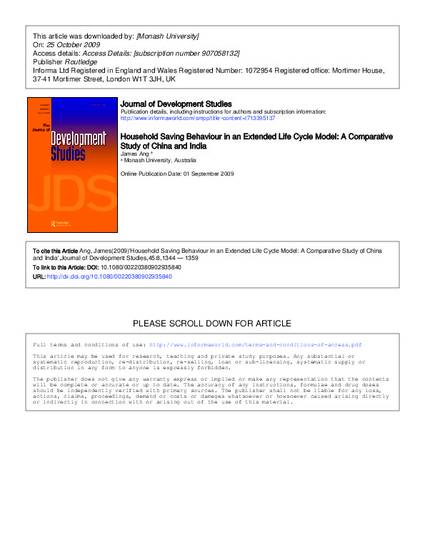 Article
Household saving behaviour in an extended life cycle model: A comparative study of China and India
JOURNAL OF DEVELOPMENT STUDIES (2009)
Abstract
This paper examines the determinants of household saving in China and India over the last few decades using the life cycle model, with appropriate modifications to account for the expected benefits of pension saving. Consistent with the predictions made in the life cycle model, higher income growth promotes more household saving, and higher age dependency does the opposite. An increase in the inflation rate appears to encourage household saving. Interestingly, the evidence suggests that an increase in expected pension benefits tends to discourage household saving in China in the long run, but the reverse is found in India.
Citation Information
James B Ang. "Household saving behaviour in an extended life cycle model: A comparative study of China and India"
JOURNAL OF DEVELOPMENT STUDIES
(2009)
Available at: http://works.bepress.com/james_ang/18/