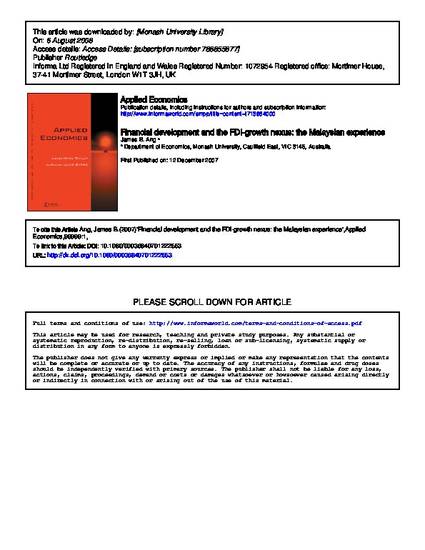 Article
Financial development and the FDI–growth nexus: The Malaysian experience
APPLIED ECONOMICS (2009)
Abstract
This article examines the FDI-growth nexus in the small open economy of Malaysia by controlling for the level of financial development. Financial development is proxied by a composite index, which is a summary measure of four financial development indicators. Using time-series data from 1965 to 2004, the results show that FDI and financial development are positively related to output in the long-run. The impact of FDI on output is enhanced through financial development. To supplement these findings, we assess the causal relationships between the variables using the recent causality tests available in the literature. The results indicate that economic growth causes FDI growth in the long-run, but no feedback relationship is observed.
Citation Information
James B Ang. "Financial development and the FDI–growth nexus: The Malaysian experience"
APPLIED ECONOMICS
(2009)
Available at: http://works.bepress.com/james_ang/15/