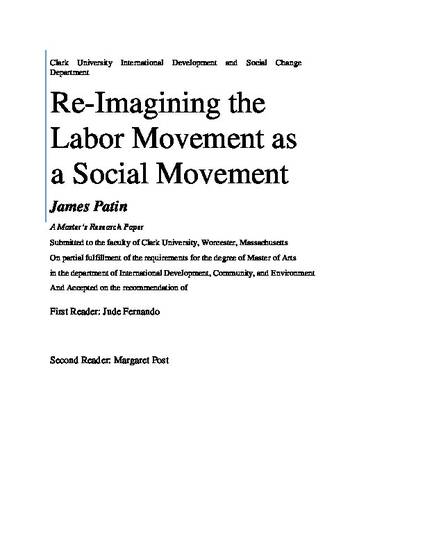 Unpublished Paper
Re-Imagining the Labor Movement as a Social Movement
(2018)
Abstract
This paper presents a new theoretical contribution which seeks to provide a framework
for the labor movement to be rebuilt by engaging both in traditional labor struggles and in social
movements. I argue that the labor movement must use labor power to fight for social change on
all fronts, using demands which bridge member consciousness to social movement
consciousness, as well as framing and organizing tactics which unite the community around the
union. This paper provides a theoretical analysis of labor movement and social movement theory
and practice. We demonstrate that Marxist Theory has been historically present, but that it has
not been recognized or adequately applied. If Marxist Theory is adequately applied by following
a particularly Leninist-Trotskyist reading of Marx, then the labor movement will be rebuilt with
other social movements to increase union density and union member militancy, as well as
furthering wider growth in working class consciousness. These factors increase the range,
intensity, and effectiveness of labor movement and social movement activity more broadly,
making this research of interest for all practitioners of social change.
Keywords
Labor Movement,
Unions,
Social Movements,
Social Movement Theory,
Social Movement Unionism,
Labor Studies,
Marxism,
Trotskyism,
Industrial Relations
Publication Date
Spring April 1, 2018
Citation Information
James Patin. "Re-Imagining the Labor Movement as a Social Movement" (2018)
Available at: http://works.bepress.com/james-patin/1/
Creative Commons License
This work is licensed under a Creative Commons CC_BY-ND International License.