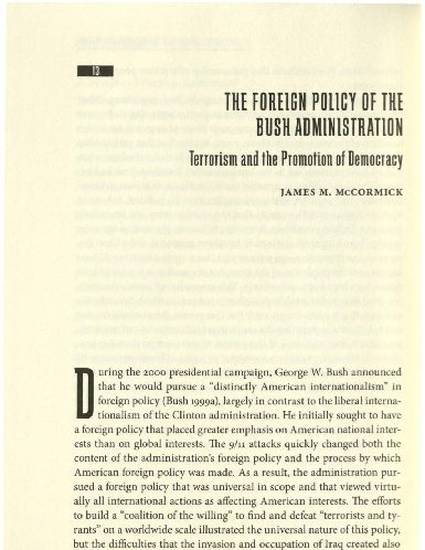 Contribution to Book
The Foreign Policy of the Bush Administration: Terrorism and the Promotion of Democracy
Ambition and Division: Legacies of the George W Bush Presidency
Document Type
Book Chapter
Publication Version
Published Version
Publication Date
1-1-2009
Abstract
During the 2000 presidential campaign, George W. Bush announced that he would pursue a "distinctly American internationalism" in foreign policy (Bush i999a), largely in contrast to the liberal internationalism of the Clinton administration. He initially sought to have a foreign policy that placed greater emphasis on American national interests than on global interests. The 9/11 attacks quickly changed both the content of the administration's foreign policy and the process by which American foreign policy was made. As a result, the administration pursued a foreign policy that was universal in scope and that viewed virtually all international actions as affecting American interests. The efforts to build a "coalition of the willing" to find and defeat "terrorists and tyrants" on a worldwide scale illustrated the universal nature of this policy, but the difficulties that the invasion and occupation of Iraq created also demonstrated the limitation of this policy approach...
Copyright Owner
University of Pittsburgh Press
File Format
application/pdf
Citation Information
James M. McCormick. "The Foreign Policy of the Bush Administration: Terrorism and the Promotion of Democracy"
Ambition and Division: Legacies of the George W Bush Presidency
(2009) p. 240 - 266
Available at: http://works.bepress.com/james-mccormick/17/