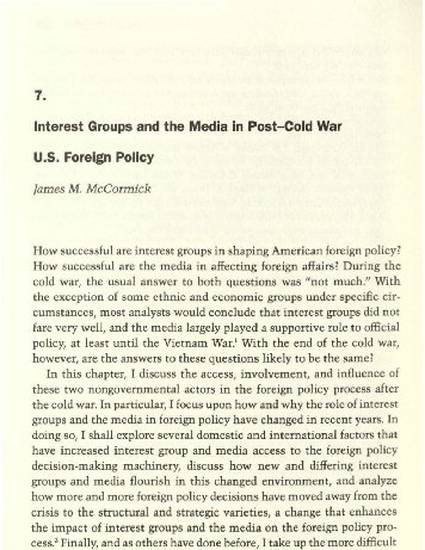 Contribution to Book
Interest Groups and the Media in Post-Cold War U.S. Foreign Policy
After the End: Making U.S. Foreign Policy in the Post-Cold War World
Document Type
Book Chapter
Publication Version
Published Version
Publication Date
1-1-1998
Abstract
How successful are interest groups in shaping American foreign policy? How successful are the media in affecting foreign affairs? During the cold war, the usual answer to both questions was "not much." With the exception of some ethnic and economic groups under speciiic circumstances, most analysts would conclude that interest groups did not fare very well, and the media largely played a supportive role to official policy, at least until the Vietnam War.1 With the end of the cold war, however, are the answers to these questions likely to be the same? In this chapter, I discuss the access, involvement, and influence of these two nongovernmental actors in the foreign policy process after the cold war. In particular, I focus upon how and why the role of interest groups and the media in foreign policy have changed in recent years. In doing so, I shall explore several domestic and international factors that have increased interest group and media access to the foreign policy decision-making machinery, discuss how new and differing interest groups and media flourish in this changed environment, and analyze how more and more foreign policy decisions have moved away from the crisis to the structural and strategic varieties, a change that enhances the impact of interest groups and the media on the foreign policy process? Finally, and as others have done before, I take up the more difficult issue of relative influence of these actors in this new environment.
Copyright Owner
Duke University Press
File Format
application/pdf
Citation Information
James M. McCormick. "Interest Groups and the Media in Post-Cold War U.S. Foreign Policy"
After the End: Making U.S. Foreign Policy in the Post-Cold War World
(1998) p. 170 - 198
Available at: http://works.bepress.com/james-mccormick/13/