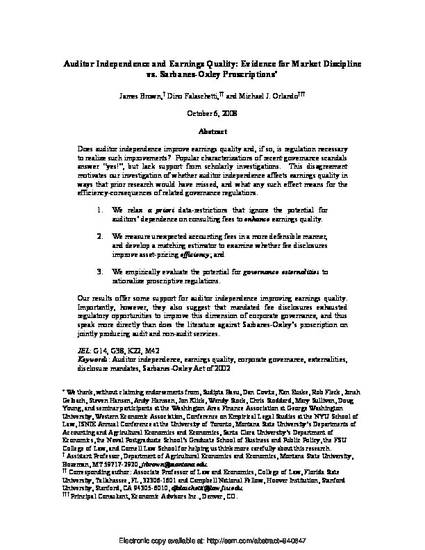 Article
Auditor Independence and Earnings Quality: Evidence for Market Discipline vs. Sarbanes-Oxley Proscriptions
American Law and Economics Review (2006)
Abstract
Does auditor independence improve earnings quality and, if so, is regulation necessary to realize such improvements? Popular characterizations of recent governance scandals answer "yes!", but lack support from scholarly investigations. This disagreement motivates our investigation of whether auditor independence affects earnings quality in ways that prior research would have missed, and what any such effect means for the
efficiency-consequences of related governance regulations. 1. We relax a priori data-restrictions that ignore the potential for auditors' dependence on consulting fees to enhance earnings quality. 2. We measure unexpected accounting fees in a more defensible manner, and develop a matching estimator to examine whether fee disclosures improve asset-pricing efficiency; and 3. We empirically evaluate the potential for governance externalities to rationalize proscriptive regulations. Our results offer some support for auditor independence improving earnings quality. Importantly, however, they also suggest that mandated fee disclosures exhausted
regulatory opportunities to improve this dimension of corporate governance, and thus speak more directly than does the literature against Sarbanes-Oxley's proscription on jointly producing audit and non-audit services.
Keywords
Auditor independence,
earnings quality,
corporate governance,
externalities,
disclosure mandates,
Sarbanes-Oxley Act of 2002
Publication Date
November, 2006
Citation Information
James R. Brown, Dino Falaschetti and Michael J. Orlando. "Auditor Independence and Earnings Quality: Evidence for Market Discipline vs. Sarbanes-Oxley Proscriptions"
American Law and Economics Review
Vol. 12 Iss. 1 (2006) p. 39 - 68
Available at: http://works.bepress.com/james-brown/4/