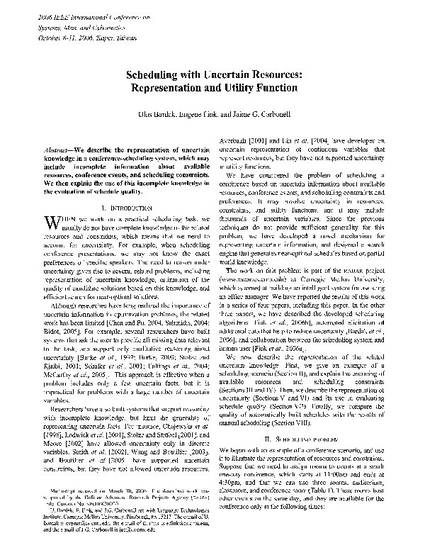 Article
Scheduling with Uncertain Resources: Representation and Utility Function
Proceedings of the IEEE International Conference on Systems, Man, and Cybernetics
Date of Original Version
3-1-2006
Type
Conference Proceeding
Abstract or Description
We describe the representation of uncertain knowledge in a conference-scheduling system, which may include incomplete information about available resources, conference events, and scheduling constraints. We then explain the use of this incomplete knowledge in the evaluation of schedule quality.
DOI
10.1109/ICSMC.2006.384927
Citation Information
Ulas Bardak, Eugene Fink and Jaime G. Carbonell. "Scheduling with Uncertain Resources: Representation and Utility Function"
Proceedings of the IEEE International Conference on Systems, Man, and Cybernetics
(2006) p. 1486 - 1492
Available at: http://works.bepress.com/jaime_carbonell/175/