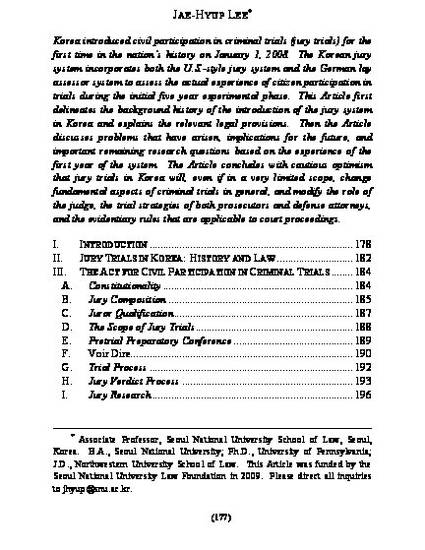 Article
Getting Citizens Involved: Civil Participation in Judicial Decision-Making in Korea
East Asia Law Review (2009)
Abstract
Korea introduced civil participation in criminal trials (jury trials) for the first time in the nation's history on January 1, 2008. The Korean jury system incorporates both the U.S.-style jury system and the German lay assessor system to assess the actual experience of citizen participation in trials during the initial five year experimental phase. This Article first delineates the background history of the introduction of the jury system in Korea and explains the relevant legal provisions. Then the Article discusses problems that have arisen, implications for the future, and important remaining research questions based on the experience of the first year of the system. The Article concludes with cautious optimism that jury trials in Korea will, even if in a very limited scope, change fundamental aspects of criminal trials in general, and modify the role of the judge, the trial strategies of both prosecutors and defense attorneys, and the evidentiary rules that are applicable to court proceedings.
Keywords
jury,
legal reform,
Asia,
Korea
Citation Information
Jae-Hyup Lee,
Getting Citizens Involved: Civil Participation in Judicial Decision-Making in Korea
, 4
E. Asia L. Rev.
177 (2009).