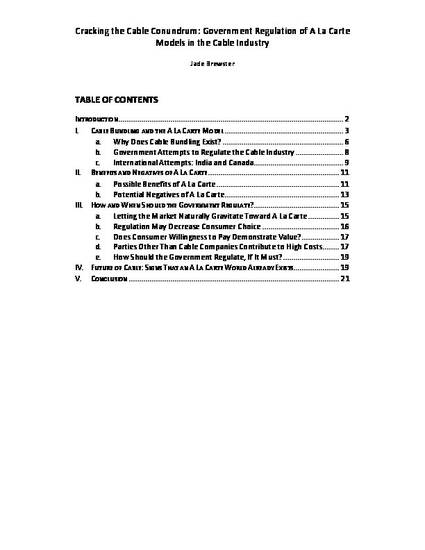 Article
Cracking the Cable Conundrum: Government Regulation of A La Carte Models in the Cable Industry
UCLA LAW REVIEW DISCOURSE (2014)
Abstract
This Article examines the practice of cable bundling, a term describing how cable providers offer channels in "packages" of channels rather than allowing consumers to buy channels individually. These cable bundles have been criticized by politicians, academics, and the public alike, many of whom believe cable bundling simultaneously increases the price of cable and forces consumers to pay for programming they neither want nor use. Politicians have responded to these criticisms by advocating for legislation requiring cable companies to offer a la carte pricing options, in which customers can pick and choose individual channels. But evidence that an a la carte requirement would improve consumer satisfaction is scarce. Government intervention would introduce new inefficiencies to the market, thereby increasing consumer costs. Additionally, if the much maligned bundle is truly inefficient, any need for government regulation will likely be obsolete in the near future. The growing popularity of new media platforms such as Netflix, Hulu, and HBO Go will almost certainly necessitate more consumer- friendly offerings from cable companies sooner rather than later.
Publication Date
Spring May 1, 2014
Citation Information
Cracking the Cable Conundrum: Government Regulation of A La Carte Models in the Cable Industry
, 62
UCLA L. REV. DISC.
20 (2014).