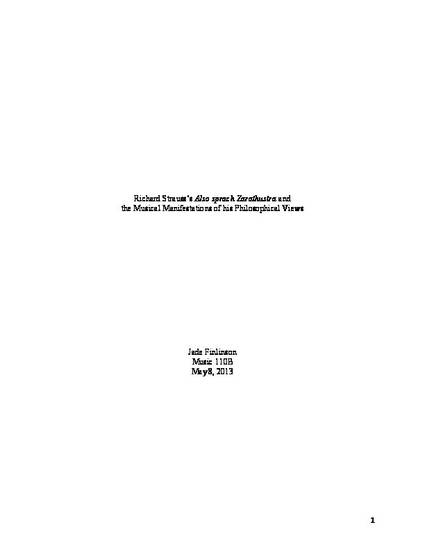 Unpublished Paper
Richard Strauss's Also Sprach Zarathustra and Musical Manifestations of his Philosophical Views
(2013)
Abstract
In the late-nineteenth-century German music world, debates raged over programmatic versus absolute music; yet in regard to the claim that music carried within it a metaphysical level of significance or some unique potential for understanding truth, the two camps had no disagreement. Growing up in the midst of these debates, Richard Strauss actively sought out an existing philosophy of art that could accommodate his personal views about the role of music and reconcile differing philosophies introduced by his early musical influences, especially Richard Wagner. By undertaking personal study of texts by Schopenhauer and Friedrich Nietzsche, Strauss able find his own path forward as a composer. Based on the scholarship of Charles Youmans, this paper tracks composer Richard Strauss's intellectual shift away from the metaphysical view of Schopenhauer and Wagner toward a Nietzschean rejection of metaphysics as reflected in the program and music for the tone poem Also sprach Zarathustra (1896), a work that exhibits elements of the struggle and resolution of the philosophical crisis that was a major turning point in Strauss's personal and professional life. 
Keywords
Richard Strauss,
Friedrich Nietzsche,
German philosopy,
classical music,
tone poems
Publication Date
Spring May, 2013
Citation Information
Jade Finlinson. "Richard Strauss's Also Sprach Zarathustra and Musical Manifestations of his Philosophical Views" (2013)
Available at: http://works.bepress.com/jade-finlinson/5/
Creative Commons License
This work is licensed under a Creative Commons CC_BY-SA International License.