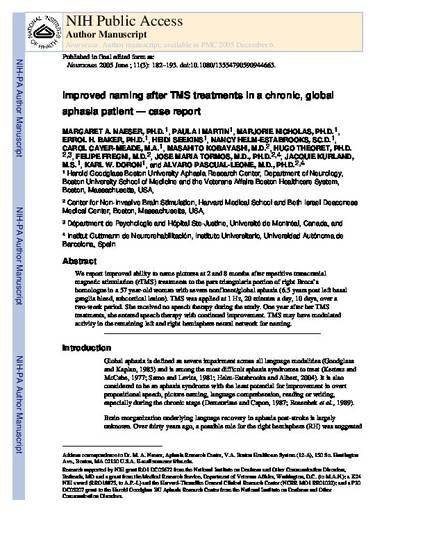 Unpublished Paper
Improved Naming After TMS Treatments in a Chronic Global Aphasia Patient--Case report
Neurocase (2005)
Abstract
We report improved ability to name pictures at 2 and 8 months after repetitive transcranial magnetic stimulation (rTMS) treatments to the pars triangularis portion of right Broca's homologue in a 57 year-old woman with severe nonfluent/global aphasia (6.5 years post left basal ganglia bleed, subcortical lesion). TMS was applied at 1 Hz, 20 minutes a day, 10 days, over a two-week period. She received no speech therapy during the study. One year after her TMS treatments, she entered speech therapy with continued improvement. TMS may have modulated activity in the remaining left and right hemisphere neural network for naming.
Citation Information
Margaret A. Naeser, Paula Martin, Marjorie Nicholas, Errol H. Baker, et al.. "Improved Naming After TMS Treatments in a Chronic Global Aphasia Patient--Case report"
Neurocase
(2005)
Available at: http://works.bepress.com/jacquie_kurland/1/