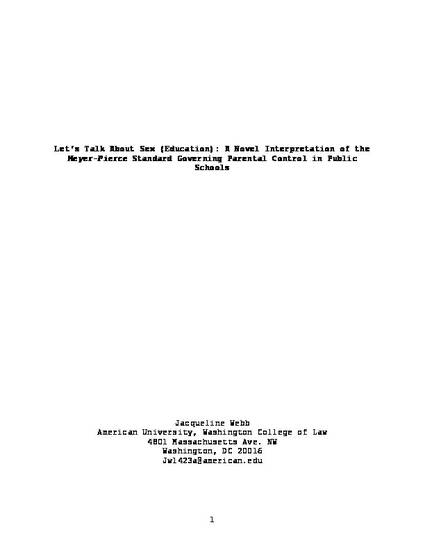 Unpublished Paper
Let's Talk About Sex (Education): A Novel Interpretation of the Meyer-Pierce Standard Governing Parental Control in Public Schools
ExpressO (2007)
Abstract
This Comment addresses the importance of parental control with regard to sex education in public schools and provides a workable middle of the road standard which balances the Constitutionally-granted rights of parents to control the upbringing of their children with the State's interest in the education of its youngest citizens.
This Comment argues that the Meyer-Pierce standard has been incorrectly interpreted as creating two polar opposite views with regard to parental control in public schools, and a middle of the road standard is a more suitable application which protects both the parents' Constitutionally-granted rights and the States' interest. Part II discusses the development and application of the Meyer-Pierce standard. Part III argues that a middle of the road application of the Meyer-Pierce standard, which gives parents control over private issues in public schools, is a more appropriate interpretation than the polar opposite views. Part IV asserts that the middle of the road application is in the best interest of the child. Part V explains the protection of certain sensitive topics in tort law.
In providing a workable middle of road standard, this Comment allows courts to protect parental interests with regard to sensitive topics without overly imposing on the State's control of the flow of information in public schools.
Keywords
sex education,
parental control,
public schools
Publication Date
March, 2007
Citation Information
Jacqueline Webb. "Let's Talk About Sex (Education): A Novel Interpretation of the Meyer-Pierce Standard Governing Parental Control in Public Schools"
ExpressO
(2007)
Available at: http://works.bepress.com/jacqueline_webb/1/