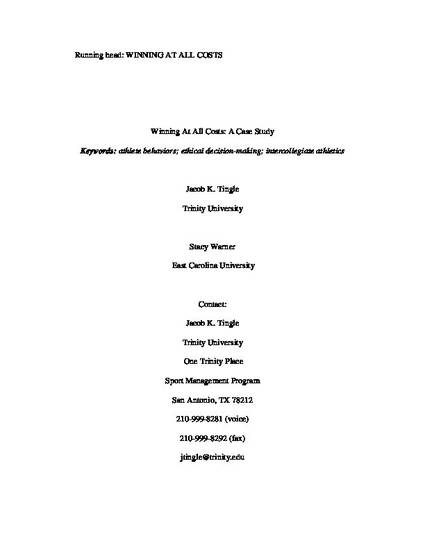 Article
Winning At All Costs: A Case Study
Sport Management Education Journal
Publication Date
1-1-2011
Abstract
This case addresses the challenges of sport managers to make fair and ethical decisions while considering the many potential organizational outcomes of their decisions. The case is based on a real situation that occurred within a NCAA Division III athletics setting. It highlights the decision making process of a director of athletics who must respond to the untimely arrests of the university's star quarterback and an assistant coach. The case provides an opportunity for students to critically examine the following: 1) how a sport organization's policies and philosophical position impact decision making, and 2) the relationship between sport and education. The case is multifaceted, and therefore, relevant for a wide spectrum of sport management classes, including sport ethics, philosophy or sociology, organizational behavior, strategic management, human resource management, and sport marketing.
Document Object Identifier (DOI)
10.1123/smej.5.1.65
Publisher
North American Society for Sport Management
Citation Information
Tingle, J. K., & Warner, S. (2011). Winning at all costs: A case study.
Sport Management Education Journal, 5
(1), 65-78. doi: 10.1123/smej.5.1.65