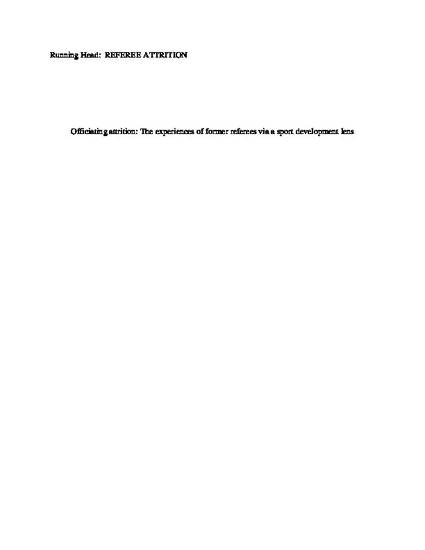 Article
Officiating Attrition: The Experiences of Former Referees Via a Sport Development Lens
Journal of Sport Management
Publication Date
1-1-2013
Abstract
Referees are key sport personnel who have important responsibilities both on- and off- the field. Organized competition would not survive without referees, yet little is known about what cause referees to discontinue in the role. This research examines the experiences of former referees so that managers may better understand strategies that might encourage more referees to be retained. Fifteen previous basketball referees were interviewed about their refereeing experience. Ten themes emerged that were related to the sport development stages of referee recruitment, referee retention, and referee advancement. The results indicate that issues experienced during the retention phase (Problematic Social Interaction, Training/Mentoring, and Lack of Referee Community) and then at the advancing stage (Lack of Administrator Consideration, Administrator Decision Making, and Sport Policies) are linked to eventual departure from the role. Interestingly, off-court factors were reported as more influential in the decision to leave. Managerial strategies and implications are discussed.
Document Object Identifier (DOI)
doi/10.1123/jsm.27.4.316
Publisher
North American Society for Sport Management
Citation Information
Warner, S., Tingle, J. K., & Kellett, P. (2013). Officiating attrition: Considering the experiences of referees from a sport development perspective.
Journal of Sport Management, 27
(4), 316-328. doi: 10.1123/jsm.27.4.316