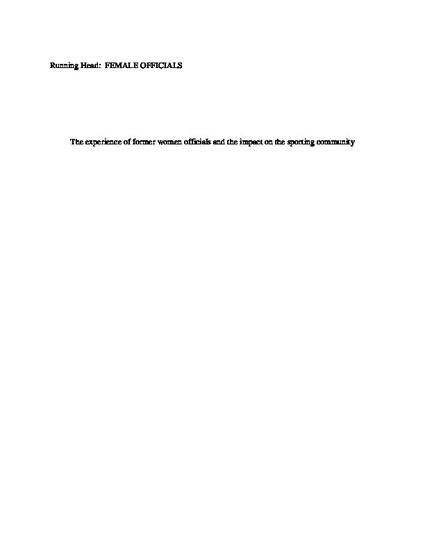 Article
The Experience of Former Women Officials and the Impact on the Sporting Community
Sex Roles
Publication Date
4-1-2014
Abstract
In an effort to explore the shortage of female sport officials, the authors examined the experience of eight former female basketball officials from five geographically diverse states in the U.S. who voluntarily left the role. Specifically, the authors asked former female basketball officials to describe their workplace experiences. Utilizing a phenomenological approach and workplace incivility framework, the results indicated that the felt social inequity for female officials detracted from the participants experiencing a sense of community in the workplace, which ultimately led to their discontinuation in the role. Results indicate four key factors that created this uncivil work environment. An examination of the data revealed four major themes. Specifically the female basketball officials reported experiencing a Lack of Mutual Respect from male counterparts; Perceived Inequity of Policies; a Lack of Role Modeling and Mentoring for and from female officials; and experiencing more Gendered Abuse than did their male counterparts. The combination of these four factors exacerbated the female officials' inability to connect to the officiating community and led to their withdrawal from the role. The results further indicate that women officials likely threatened the hegemonic characteristics of a sport setting. Although females have made great strides in terms of sport participation, the practical implications of this research suggest that understanding females in workplace roles, such as officiating, is vital if social equity is to be achieved in the sporting community.
Document Object Identifier (DOI)
10.1007/s11199-014-0366-8
Publisher
Springer Nature
Citation Information
Tingle, J. K., Warner, S., & Sartore-Baldwin, M. L. (2014). The experience of former women officials and the impact on the sporting community.
Sex Roles, 71
(1-2), 7-20. DOI: 10.1007/s11199-014-0366-8