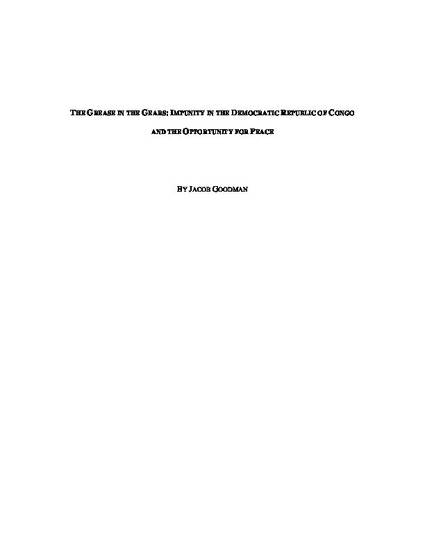 Unpublished Paper
The Grease in the Gears: Impunity in the Democratic Republic of Congo and the Opportunity for Peace
ExpressO (2009)
Abstract
This article discusses the conflict in the Democratic Republic of Congo (DRC), the source of the world's worst humanitarian crisis, as a case study in the broader academic debate about the proper balance between peace and justice in conflict settings. Unlike most studies of the issue, this article contributes to the discussion by analyzing a single conflict, filling a great need for detailed case studies in what too often tends to be a philosophical debate. The article first traces the history of impunity in the peace process, then argues that the strategy of appeasement and impunity for human rights violators is unlikely to produce a long-term peace and should be abandoned. It then argues that a change in strategy through the arrest and trial of prominent rebel leaders in the Kivu region of the DRC would create the opportunity for peace. While such accountability in itself is not a panacea, in the particular case of the Congo there is reason to believe both (1) that puncturing the armor of impunity for atrocities in the eastern Congo is a necessary step in securing a long-term peace; and (2) accountability would have a deterrent effect on belligerents in the region. Finally, the article suggests the ICC as a possible vehicle for imposing accountability.
Publication Date
August 23, 2009
Citation Information
Jacob Goodman. "The Grease in the Gears: Impunity in the Democratic Republic of Congo and the Opportunity for Peace"
ExpressO
(2009)
Available at: http://works.bepress.com/jacob_goodman/1/