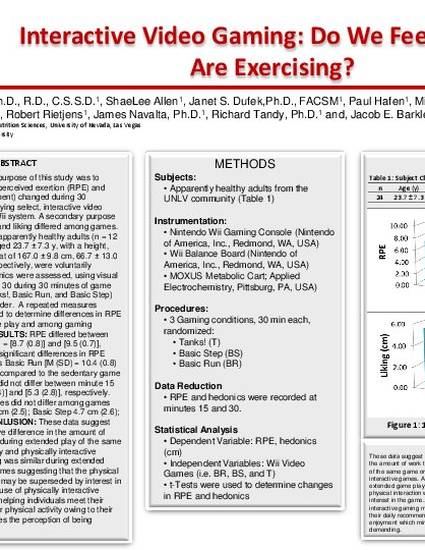 Article
Interactive Video Gaming: Do We Feel Like We Are Exercising?
Interdisciplinary Research Scholarship Day
Location
UNLV Moyer Student Union 208
Start Date
16-4-2013 12:30 PM
End Date
16-4-2013 2:30 PM
Description
The primary purpose of this study was to determine if the rating of perceived exertion (RPE) and hedonics (liking or enjoyment) changed during 30 contiguous minutes of playing select, interactive video games on the Nintendo Wii system. A secondary purpose was to determine if RPE and liking differed among games.These data suggest that individuals do perceive difference in the amount of work they are performing during extended play of the same game or among sedentary and physically interactive games. Additionally, liking was similar during extended game play and among games suggesting that the physical interaction with the game may be superseded by interest in the game. Promoting the use of physically interactive gaming may be useful in helping individuals meet their daily recommendations for physical activity owing to their enjoyment which minimizes the perception of being physically demanding.
Keywords
Exercise,
Interactive multimedia,
Nintendo Wii video games,
Pleasure,
Video games
Citation Information
Antonio Santo, ShaeLee Allen, Janet Dufek, Paul Hafen, et al.. "Interactive Video Gaming: Do We Feel Like We Are Exercising?" (2013)
Available at: http://works.bepress.com/jacob_barkley/4/