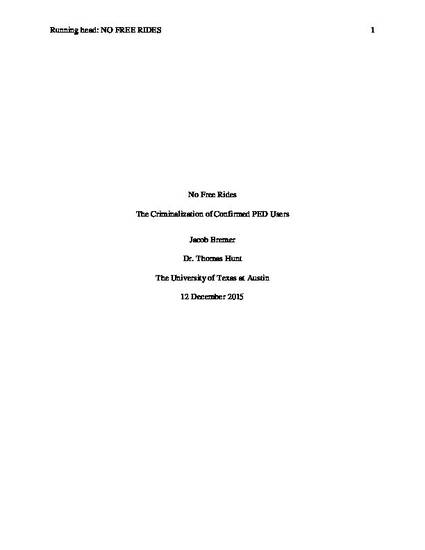 Unpublished Paper
No Free Rides
No Series (2016)
Abstract
There is currently an epidemic plaguing the sports industry on a world-wide and variety of experience level basis. In recent years it has cast a black mark over multiple sports industries and has been the cause of great discussion, debate, and controversy. The afflicting issue is the modern use of performance enhancing drugs in sports or PEDs. As the pressure for high performance, scientific and medical breakthroughs, and financial values all rapidly increase, it is no surprise the idea of using PEDs to stay atop your respected sport is a common route to take. This research looked at the payout distributions and financial benefits of professional cyclists to use as a context for confirmed PED users to be considered and tried as criminals through governmental justice systems. The findings suggest enormous amounts of money can be made through winning payouts of events, performance bonuses, sponsorships, and base salaries.
Keywords
Doping,
criminalization,
PEDs,
cyclist,
Tour De France,
payouts,
professional athlete,
law,
amateur athlete,
high school
Publication Date
April, 2016
Citation Information
Jacob Bremer. "No Free Rides"
No Series
(2016)
Available at: http://works.bepress.com/jacob-bremer/1/