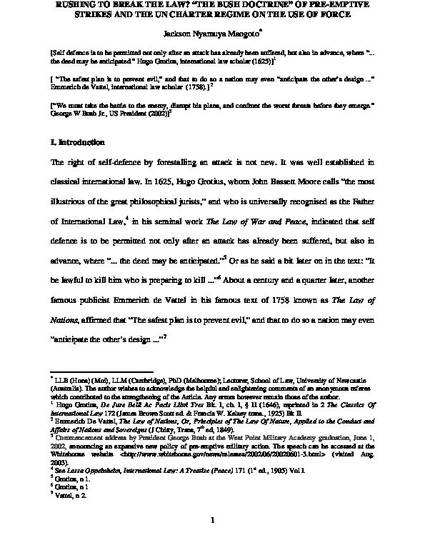 Article
RUSHING TO BREAK THE LAW? "THE BUSH DOCTRINE" OF PRE-EMPTIVE STRIKES AND THE UN CHARTER REGIME ON THE USE OF FORCE
University of Western Sydney Law Review (2003)
Abstract
The issues that the Article tackles are obviously complex and lengthy, however the Article has as its modest goal the exploration of the general arguments that the use of force to counter terrorism raises under the UN Charter regime on the use of force. In Part II, the Article gives an overview of the UN and terrorism noting the ambivalence in addressing the issue that has contributed to the confusion over a precise definition in large part reflective of the basic disagreement over the elements of terrorism itself. Part II then adopts a definition for the purposes of this Article. In Part III, the Article addresses the dramatic post-September 11 developments which witnessed the use of lethal military force in Afghanistan and Iraq in the name of countering terrorism. The Part begins with a general overview before carrying out a more detailed and specific enquiry into the legal and factual issues of both military campaigns. Part IV of the Article turns to the core of the discussion-the use of military force as a countermeasure against terrorism. The premise of post-September 11 is that terrorist groups shall not receive a shield from the territorial integrity of a state which is unwilling to put an end to terrorist activity or colludes to enhance terrorist capabilities. The Part delves into the recognised and permissible uses of force in self-help-self-defence and reprisals. These concepts engender considerable confusion considering that in the context of force in counter-terrorism, the terms are often used imprecisely; actions may be labelled "reprisals" or "retaliation" when, in fact, the proper characterization could appear to be self-defence and vice versa. This discussion seeks to delineate the basic principles of these concepts and thus prevent an undue muddle when the Article tackles the important matter of self-defence as enshrined in the UN Charter and whether anticipatory-self-defence is permitted under the UN Charter.
Keywords
Force,
Bush Doctrine,
War,
Iraq,
Afghanistan,
Pre-emptive strike
Citation Information
Jackson N Maogoto. "RUSHING TO BREAK THE LAW? "THE BUSH DOCTRINE" OF PRE-EMPTIVE STRIKES AND THE UN CHARTER REGIME ON THE USE OF FORCE"
University of Western Sydney Law Review
Vol. 7 (2003)
Available at: http://works.bepress.com/jackson_maogoto/52/