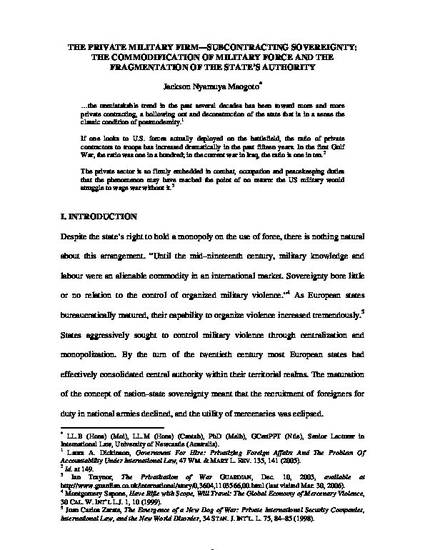 Article
SUBCONTRACTING SOVEREIGNTY: THE COMMODIFICATION OF MILITARY FORCE AND THE FRAGMENTATION OF STATE AUTHORITY
Brown Journal of World Affairs (2006)
Abstract
This Article has as its central theme the decentralization of the state's control over legitimate military force with the consequential diffusion of governmental control that stands to fragment state sovereignty. It argues that the increasing centrality of PMFs to the prosecution of war is creating a changed national security landscape with PMFs increasingly influencing governmental policy both overtly and covertly. PMF heads many of whom are former high ranking military and civilian personnel now advise governments and in some cases sit on government advisory boards. Additionally they also offer governments a conduit for pursuing covert foreign policy aims and circumvention of various legislative and legal oversights. The formidable military capability of PMFs and the growing reliance of state militaries on their services means that PMFs' now stand to threaten, if not influence governments.
Keywords
Private Military Firms,
War,
Armed Conflict,
State,
Sovereignty
Citation Information
Jackson N Maogoto. "SUBCONTRACTING SOVEREIGNTY: THE COMMODIFICATION OF MILITARY FORCE AND THE FRAGMENTATION OF STATE AUTHORITY"
Brown Journal of World Affairs
Vol. 13 Iss. 1 (2006)
Available at: http://works.bepress.com/jackson_maogoto/41/