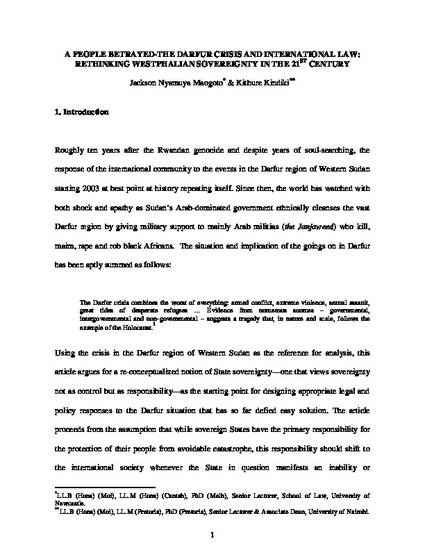 Article
A PEOPLE BETRAYED-THE DARFUR CRISIS AND INTERNATIONAL LAW: RETHINKING WESTPHALIAN SOVEREIGNTY IN THE 21ST CENTURY
Bond Law Review (2007)
Abstract
This Article uses the Darfur Crisis in Sudan as a case study. It argues that rather than eliminating sovereignty as a political ideology, a more productive enterprise would be to refocus the discourse away from the traditional structural understanding of the term, which only serves to accentuate the level of discrepancy between the theological and the political definitions of the term and which ultimately leaves the false impression that absolute sovereignty is somehow realizable in the international political sphere. This refocus would constitute a shift toward a functional conception of sovereignty, wherein the purpose that State sovereignty would serve in any given situation would itself determine its limits. This discursive shift in emphasis toward a functional understanding of sovereignty would facilitate recognition of sovereignty's "neglected counter-side: sovereignty is not only a claim of freedom from external interference, it is also the liberty to permit some kinds of external interference." It concludes no longer is State conduct immune from international scrutiny, or even from sanction.
Keywords
Darfur,
Sovereignty,
Human Rights,
Westphalia
Citation Information
Jackson N Maogoto and Kithure Kindiki. "A PEOPLE BETRAYED-THE DARFUR CRISIS AND INTERNATIONAL LAW: RETHINKING WESTPHALIAN SOVEREIGNTY IN THE 21ST CENTURY"
Bond Law Review
Vol. 19 Iss. 2 (2007)
Available at: http://works.bepress.com/jackson_maogoto/40/