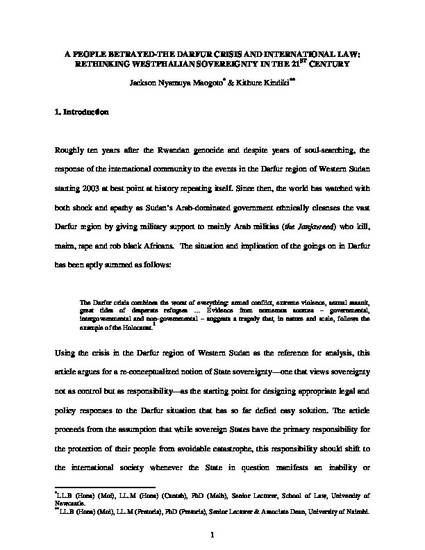 Article
A People Betrayed—The Darfur Crisis and International Law: Rethinking Westphalian Sovereignty In the 21st Century
Bond Law Review (2007)
Abstract
Using the crisis in the Darfur region of Western Sudan as the reference for analysis, this article argues for a re-conceptualized notion of State sovereignty—one that views sovereignty not as control but as responsibility—as the starting point for designing appropriate legal and policy responses to the Darfur situation that has so far defied easy solution. The article proceeds from the assumption that while sovereign States have the primary responsibility for the protection of their people from avoidable catastrophe, this responsibility should shift to the international society whenever the State in question manifests an inability or unwillingness to protect its citizenry. Seen as such, sovereignty should not be a barrier to holding the perpetrators of heinous crimes in Darfur accountable, or to possible models of international intervention including the lawful use of armed force.
Citation Information
Jackson N Maogoto. "A People Betrayed—The Darfur Crisis and International Law: Rethinking Westphalian Sovereignty In the 21st Century"
Bond Law Review
Vol. 19 Iss. 2 (2007)
Available at: http://works.bepress.com/jackson_maogoto/32/