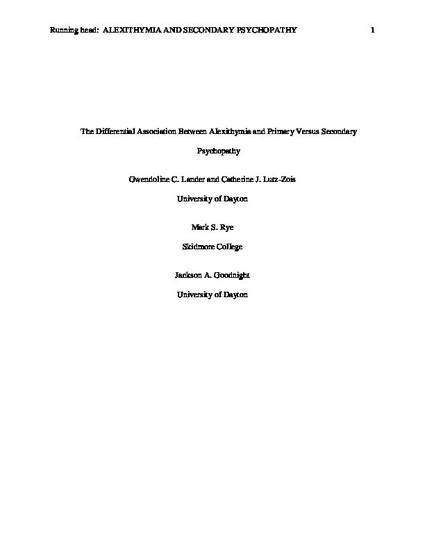 Article
The Differential Association between Alexithymia and Primary versus Secondary Psychopathy
Personality and Individual Differences
Publication Date
1-1-2012
Abstract
Using a sample of 104 college students, this study tested the hypothesis that alexithymia is positively related to secondary (also known as "neurotic psychopathy"), but not primary psychopathy (i.e., inability to form emotional bonds with others and a fear insensitivity). Participants completed the TAS-20 (alexithymia), the LSRP (primary and secondary psychopathy), the PPI-R (psychopathy), and the trait version of the STAI (trait anxiety). The interaction between the latter two measures was used as a second index of primary and secondary psychopathy. Support was found for the study hypothesis with both methods of assessing psychopathy (i.e., the LSRP subscales or the combination of the PPI-R and the STAI). These results further our understanding of both alexithymia and psychopathy. Highlights: * We hypothesized that alexithymia would be related to secondary psychopathy. * We hypothesized that alexithymia would not be related to primary psychopathy. * Support for these hypotheses was used with two different ways of operationalizing psychopathy. * Primary psychopathy was correlated with "externally oriented thinking."
Document Version
Postprint
Copyright
Copyright © 2012, Elsevier
Publisher
International Society for the Study of Individual Differences
Citation Information
Gwendoline Cecilia Lander, Catherine J. Lutz-Zois, Mark S. Rye and Jackson A. Goodnight. "The Differential Association between Alexithymia and Primary versus Secondary Psychopathy"
Personality and Individual Differences
Vol. 52 Iss. 1 (2012)
Available at: http://works.bepress.com/jackson_goodnight/3/