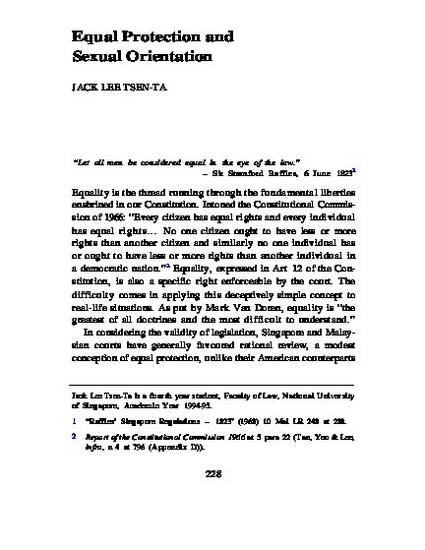 Article
Equal Protection and Sexual Orientation
Singapore Law Review (1995)
Abstract
Equality is the thread running through the fundamental liberties enshrined in our Constitution. ... Equality, expressed in Art 12 of the [Singapore] Constitution, is also a specific right enforceable by the court. The difficulty comes in applying this deceptively simple concept to real-life situations. ... In considering the validity of legislation, Singapore and Malaysian courts have generally favored rational review, a modest conception of equal protection, unlike their American counterparts which have adopted a more expansive reading in the form of strict and intermediate review. This article examines how these three levels of equal protection review operate, and argues that the scheme of Art 12, explicit judicial and academic approval, and policy support a wider interpretation of equal protection. As an illustration, we will look at whether criminal exclusions of male homosexual activity in private under ss 377 and 377A of the Penal Code violate the right to equal protection.
Keywords
Constitutional law,
equality,
equal protection,
discrimination on grounds of sexual orientation,
male homosexual activity,
bill of rights,
civil liberties,
human rights,
criminal law,
unnatural offenses,
carnal intercourse against the order of nature,
gross indecency,
Singapore,
Malaysia
Citation Information
Jack Tsen-Ta Lee. "Equal Protection and Sexual Orientation"
Singapore Law Review
Vol. 16 (1995)
Available at: http://works.bepress.com/jacklee/7/