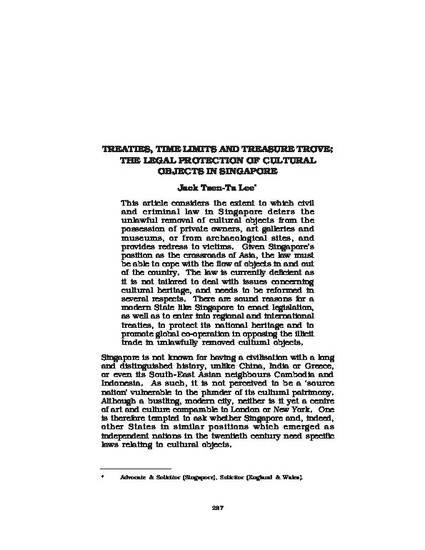 Article
Treaties, Time Limits and Treasure Trove: The Legal Protection of Cultural Objects in Singapore
Art, Antiquity & Law (2004)
Abstract
This article considers the extent to which civil and criminal law in Singapore deters the unlawful removal of cultural objects from the possession of private owners, art galleries and museums, or from archaeological sites, and provides redress to victims. Given Singapore's position as the crossroads of Asia, the law must be able to cope with the flow of objects in and out of the country. The law is currently deficient as it is not tailored to deal with issues concerning cultural heritage, and needs to be reformed in several respects. There are sound reasons for a modern State like Singapore to enact legislation, as well as to enter into regional and international treaties, to protect its national heritage and to promote global co-operation in opposing the illicit trade in unlawfully removed cultural objects.
Keywords
Law of cultural property,
art law,
heritage law,
Singapore
Citation Information
Jack Tsen-Ta Lee. "Treaties, Time Limits and Treasure Trove: The Legal Protection of Cultural Objects in Singapore"
Art, Antiquity & Law
Vol. 9 Iss. 3 (2004) p. 237 - 280 ISSN: 1362-2331
Available at: http://works.bepress.com/jacklee/5/