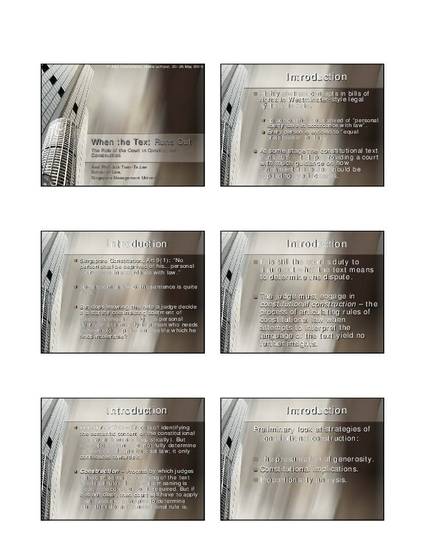 Presentation
When the Text Runs Out: The Role of the Court in Constitutional Construction
Asian Law Institute 7th Conference, Kuala Lumpur, 25-26 May 2010
Publication Type
Presentation
Abstract
Constitutions in Westminster-style legal systems in Asia such as India, Malaysia and Singapore feature bills of rights with provisions phrased at a high level of abstraction. As a consequence, at some stage a particular constitutional text 'runs out' and ceases to provide a court with substantive guidance as to how fundamental liberties should be applied to specific factual scenarios. Nonetheless, as it remains the court's duty to understand the implications of the constitutional text in order to determine the dispute before it, the judge must necessarily engage in constitutional construction. This may be described as the process of articulating rules of constitutional law when attempts to interpret the language of the text yield no further insights. This paper takes a preliminary look at various strategies of constitutional construction, including applying a presumption of generosity, making inferences from the text, reading the text in the light of common law principles, and applying a proportionality analysis.
Keywords
Constitutional construction,
constitutional interpretation,
presumption of generosity,
proportionality analysis,
textual implication
City or Country
Kuala Lumpur, Malaysia
Creative Commons License
Creative Commons Attribution-NonCommercial-No Derivative Works 4.0 International
Citation Information
Jack Tsen-Ta LEE. "When the Text Runs Out: The Role of the Court in Constitutional Construction"
Asian Law Institute 7th Conference, Kuala Lumpur, 25-26 May 2010
(2010)
Available at: http://works.bepress.com/jacklee/25/