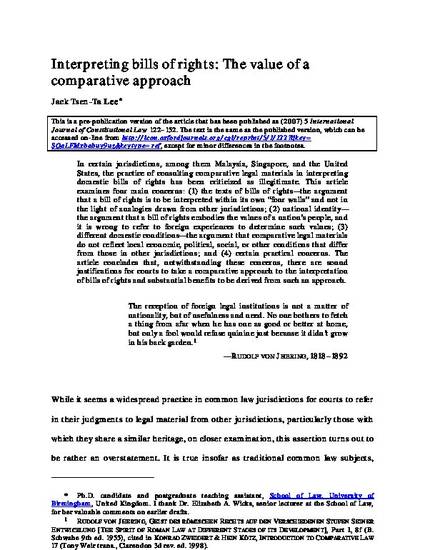 Article
Interpreting Bills of Rights: The Value of a Comparative Approach
International Journal of Constitutional Law (2007)
Abstract
In certain jurisdictions, among them Malaysia, Singapore, and the United States, the practice of consulting comparative legal materials in interpreting domestic bills of rights has been criticized as illegitimate. This article examines four main concerns: (1) the texts of bills of rights – the argument that a bill of rights is to be interpreted within its own four walls and not in the light of analogies drawn from other jurisdictions; (2) national identity – the argument that a bill of rights embodies the values of a nation's people, and it is wrong to refer to foreign experiences to determine such values; (3) different domestic conditions – the argument that comparative legal materials do not reflect local economic, political, social, or other conditions that differ from those in other jurisdictions; and (4) certain practical concerns. The article concludes that, notwithstanding these concerns, there are sound justifications for courts to take a comparative approach to the interpretation of bills of rights and substantial benefits to be derived from such an approach.
Keywords
Comparative law,
constitutional interpretation,
interpreting bills of rights,
Singapore,
United States
Citation Information
Jack Tsen-Ta Lee. "Interpreting Bills of Rights: The Value of a Comparative Approach"
International Journal of Constitutional Law
Vol. 5 Iss. 1 (2007) p. 122 - 152 ISSN: 1474-2659
Available at: http://works.bepress.com/jacklee/2/