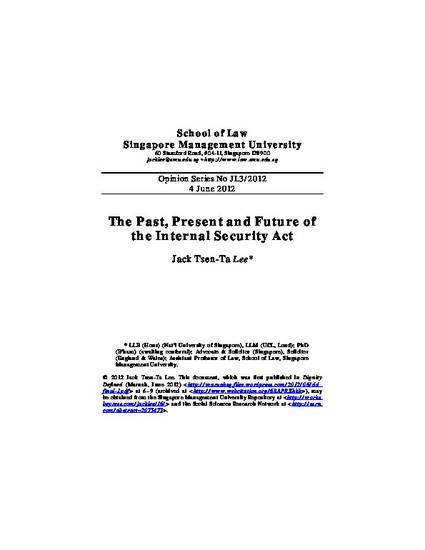 Unpublished Paper
The Past, Present and Future of the Internal Security Act
Singapore Management University School of Law Opinion Series (2012)
Abstract
Assistant Professor Jack Tsen-Ta Lee, who teaches and researches constitutional and administrative law at the School of Law of the Singapore Management University, introduces the Internal Security Act (ISA) and assesses its continued relevance today.
Keywords
Constitution of Singapore,
detention without trial,
Internal Security Act,
preventive detention,
Singapore
Publication Date
June 4, 2012
Citation Information
Jack Tsen-Ta Lee. 4 June 2012.
The Past, Present and Future of the Internal Security Act
. Singapore Management University School of Law Opinion Series No JL3/2012. Available at:
http://works.bepress.com/jacklee/16
.